Port Arthur Nationals Little League
ONLINE REGISTRATION WILL BE OPENING APRIL 12TH, 2021.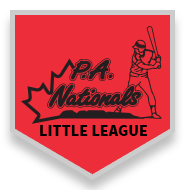 We are planning for a great season this year once we are allowed to operate. It is important that once the season does get started that we follow all protocols put in place by the league. Thank you in advance for your cooperation.
Anyone wishing to Umpire this year for Major and Minor should contact
the scheduler, Meighan at 807-251-8221 or the Umpire in Chief, Karen at 807-632-8704.
(text or call)
There are currently no events to display. Please check back later.