Port Arthur Nationals Little League

Lakers adding tryouts for 19U and 9U!
For 9U tryout information please contact Joey at joeyzanni@hotmail.com or Trevor at tlind27@live.ca
The players for 9U must be born after April 30th, 2013
All Ages Lakers Tryouts are listed here.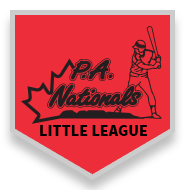 2022 minor Champions: Sencia Pirates
Congratulations!!!!
Congratulations to the Sencia Pirates on claiming the 2022 Port Arthur Nationals Minor House League Championship. The team played great all season and finished it off with an impressive victory over the Boys & Girls Club Twins.
A special thank you to everyone involved this year who helped make the season a success. Thank you to all the coaches, umpires, parents, and of course the athletes. We will see everyone in the summer of 2023.
Port Arthur Nationals
2022 Major Champions: Blue Wave ENergy Twins
Congratulations!!!!
On Wednesday evening, the Blue Wave Energy Twins were able to claim the Port Arthur Nationals Major Championship with an 8-1 victory in the final. It was a very close contest with the Smith & Associates Red Sox until the bottom of the fifth when the Twins were able to rally for 5 runs driven by three triples off of the bats of Nash Girvin, Gavin Godick and Braeden Tenhunen along with a two-run home run by JJ Kuokkanen. Pictured below are the members of the winning side. (Front row: left to right) Nolan Bewick, Gavin Godick, Duncan Maclean, JJ Kuokkanen, Braeden Tenhunen, Nash Girvin, Luka Slavic (Back row: left to right) Alexander Thoms, Lincoln Maclean, John Esquega, Ryder Cava (Missing: Jesse Ukrainec, Carson Clarke)
2022 OBA Bantam CHampions: Mallon's
Congratulations!!!!
See Banner at top ----> Top Row - L-R Colin Campbell (head coach), Anthony Discasmirro, Carter Campbell, Jacob Cook. Olavi Ojanpera, WIlliam Mcdonald, Trevor Dunn (Assistant Coach)
Bottom - L-R Jason Cook (Assistant Coach), Teyton Dionne, Johnnie Cook, SIlas Dunn, Griffin Dunn, Cameron Ogilvie, Peter Lysohirka, BIll Bouley (Assistant Coach)
Missing - Matthew Marasco
---
Please Follow us on It will be updated regularly with important information.
There are currently no events to display. Please check back later.