Port Arthur Nationals Little League
Teams will begin limited workouts on june 22nd. Games will begin July 5th, if covid restrictions are eased.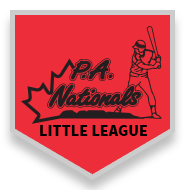 Schedules for Minor and Major are now posted.
An UMPIRE clinic will be held Saturday, June 26 at noon. Click here for details
.
Please Follow us on It will be updated regularly with important information.
WE ARE CURRENTLY LOOKING FOR COACHING STAFF AT ALL LEVELS. PLEASE CONTACT DANNY NUCCI AT 344-1632 or 344-1617.
Anyone wishing to umpire this year should contact Meighan at 807-251-8221 or Karen at 807-632-8704.
There are currently no events to display. Please check back later.